Thank you to everyone who visited the annual Save the Rain Clean Water Fair. We had a great time and hope to see you again next year!!!
Featured attractions:
• Update on Onondaga County's nationally recognized "Save the Rain" program
• Learning more about Onondaga Lake's recovery and viewing wildlife from the Lake
• Hourly tours of the state-of-the-art Metropolitan Wastewater Treatment Plant
• Green infrastructure project tours – viewing a selection of over 175 green projects implemented to date
• Equipment demonstrations and project displays from the County and others who are working to improve water quality
• Activities for the kids – including a bouncy house!
• Rain barrel workshops to learn how to use and maintain a rain barrel to help save the rain
• Rain barrel raffles and sales
• Learning about potential career opportunities in the field of clean water
This year, Save the Rain also partnered with Beaver Lake Nature Center to offer attendees of the Clean Water Fair a free adult ticket to the Golden Harvest Festival!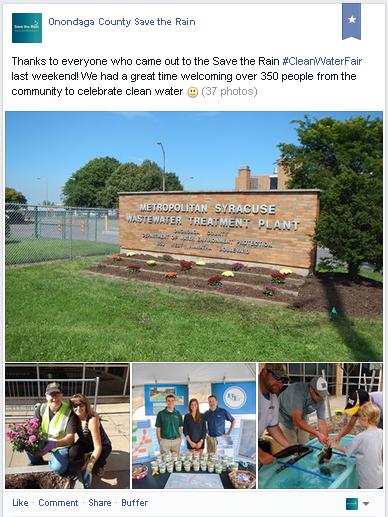 View the highlights from the 2013 Clean Water Fair
Questions or comments? Please contact us through the form below: