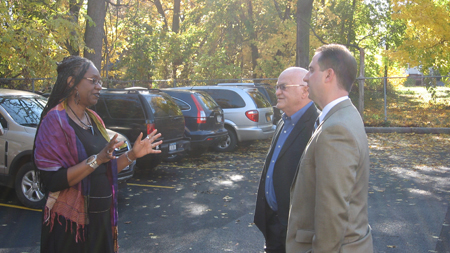 GIF Parking Lot redevelopment at the Dunbar Center
Onondaga County's Green Improvement Fund (GIF) provides financial assistance for the installation of green infrastructure projects for privately owned properties (commercial, business, and not-for-profit) in the Clinton, Harbor Brook and Midland Combined Sewer sheds in the City of Syracuse.
County Executive Joanne M. Mahoney kicked-off the program in 2010 to help support the efforts of the "Save the Rain" campaign to reduce storm water pollution and help clean Onondaga Lake.  Private property projects will play a vital role in the County's efforts to capture 250 million gallons of storm water runoff as part of the program.
The 2010 construction season saw the submission of over 20 applications with 6 completed projects receiving payment through the fund. The 2011 GIF program will include several new elements with an increased emphasis on gallon capture, expansion of the program boundary and new funding limit thresholds for applications.
The updated format is part of the County's on-going effort to efficiently administer the fund and provide innovative opportunities to a wide-range of private property owners to participate in the program.
Interested applicants can find out more information and download the new program description and application and the new program boundary map by visiting: www.savetherain.us/green-programs/green-improvement-fund/