The sound of bouncing basketballs have recently taken on a whole new meaning as the Courts4Kids program, a collaborative initiative of the Jim & Juli Boeheim Foundation and the Carmelo K. Anthony Foundation, worked in conjunction with the City of Syracuse Parks Department and Onondaga County's "Save the Rain" program to renovate the courts at Skiddy Park. The newly restored courts are the first "green" basketball court in the City of Syracuse and will include the use of porous asphalt designed to absorb storm water where it lands. This innovative approach will help prevent harmful pollutants from discharging directly to local streams and will dramatically improve the water quality of Harbor Brook and Onondaga Lake.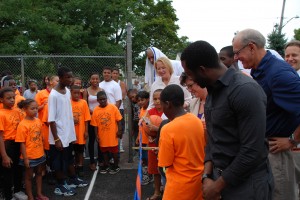 The project is a great example of the tremendous partnership between the City of Syracuse, Boeheim Foundation and Onondaga County. Representatives from each organization worked tirelessly to make the courts at Skiddy as environmentally friendly as possible. The new courts allow children in the neighborhood the chance to play the game they love and protect Onondaga Lake and Harbor Brook.
Courts4Kids provides funding for the renovations of basketball courts throughout the City of Syracuse. The program is intended to offer children in socio-economically disadvantaged sections of the City the opportunity to participate in healthy living activities, such as basketball, and improve play areas for children in the community.
For more information on the grand opening festivities and the project, please click on the links below:
http://centralny.ynn.com/content/top_stories/552238/courts-for-kids-adds-courts-to-skiddy-park/
http://www.cnycentral.com/sports/photos.aspx?id=647574
http://www.syracusenewtimes.com/newyork/article-5190-jim-dandy_.html