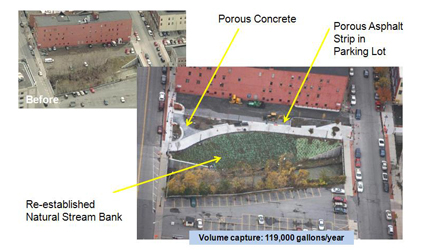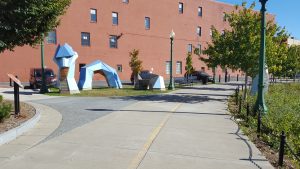 This additional phase of the Syracuse Creekwalk project incorporated green infrastructure on a former asphalt parking lot that borders the eastern bank of the Onondaga Creek between Walton Street and East Fayette Street. Green infrastructure introduced in this phase included a porous asphalt strip in the parking lot alongside the creek, overlooking a re-established natural stream bank that was planted with native vegetation to stabilize the slope and prevent erosion. In addition, a section of porous concrete was included on the Creekwalk trail turnoff onto East Fayette Street.  Both technologies will collect stormwater runoff from the trail and adjacent impervious surfaces.
This portion of the green improvements were completed on the second block of the Creekwalk trail, which is intended for walking, cycling, and other recreational pedestrian traffic. This block is just one segment of the City's Creekwalk Project, which will create a continuous multi-use trail along Onondaga Creek from the Armory Square district through the shores of
Onondaga Lake. The vision for the Syracuse Creekwalk is to reunite recreational opportunities with the City's natural amenities, while also introducing signage to educate the public about the County's green stormwater infrastructure initiatives.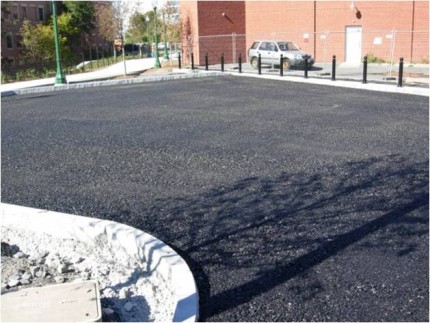 Download project details below: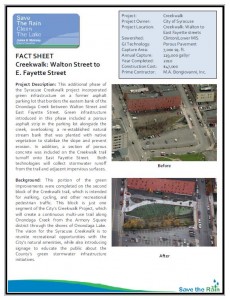 Project Overview
Related Media:
"Creekwalk Officially Opens"
"Onondaga Creekwalk Opens, Connecting Armory Square and Onondaga Lake"