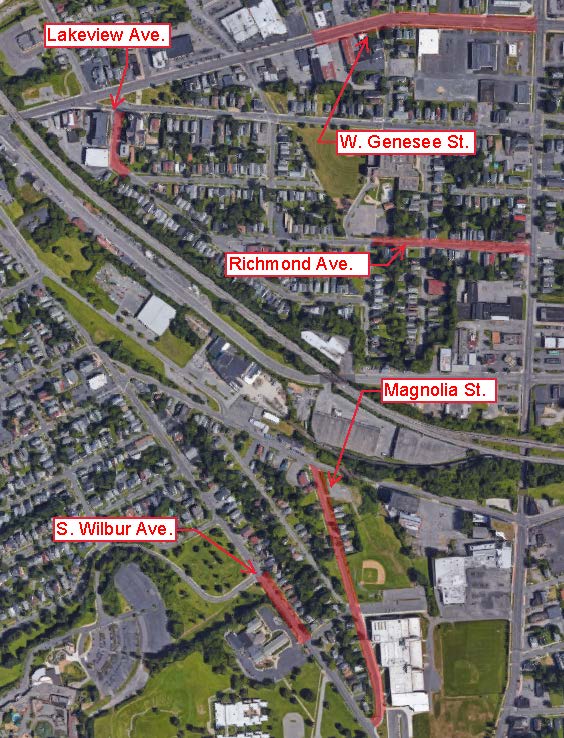 Project Description: The Green Streets in Harbor Brook Sewershed projects are comprehensive green street applications located on multiple streets within the Harbor Brook sewershed. CSOs 005, 006, 007 and 009 are high priority sewersheds that discharge frequently during rain events. The candidate streets are listed below with capture area and runoff reduction estimates:
·   Lakeview Avenue (CSO 006) Capture Area: 37,448 sq. ft. Runoff Reduction: 661,174 gal/yr
·   Magnolia Street (CSO 009) Capture Area: 61,315 sq. ft. Runoff Reduction: 1,082,565 gal/yr
·   South Wilbur Avenue (CSO 009) Capture Area: 19,901 sq. ft. Runoff Reduction: 351,368 gal/yr
·   Richmond Avenue (CSO 007) Capture Area: 41,318 sq. ft. Runoff Reduction: 729,502 gal/yr
·   West Genesee Street (CSO 005) Capture Area: 114,800 sq. ft. Runoff Reduction: 2,026,885 gal/yr
This proposed project will incorporate infiltration trenches, rain gardens (also known as bioretention), and tree planting to manage stormwater from Lakeview Avenue, Magnolia Avenue, S. Wilbur Avenue, Richmond Avenue and West Genesee Street.
Infiltration trenches capture water in an underground stone trench located beneath a roadway. From there, it slowly infiltrates to groundwater. A rain garden is a depressed, vegetated area that receives stormwater runoff from adjacent paved areas. The runoff then infiltrates to groundwater or is released to the atmosphere through evapotranspiration.
When complete, these green streets will capture a total of 4,851,494 gallons of stormwater annually.
Download project details below: