Onondaga County Department of Water Environment Protection
September 22, 2012 –  9 am to 2 pm.


Please join us at the Clean Water Fair to learn more about Onondaga County's efforts to clean up and restore Onondaga Lake.
• Tours • Demonstrations • Fun for the whole family
• Update on Onondaga County's nationally recognized "Save the Rain" program
• Learn more about Onondaga Lake's recovery and view wildlife from the Lake
• Tour the state-of-the-art Metropolitan Wastewater Treatment Plant
• View equipment demonstrations and project displays
• Learn about potential career opportunities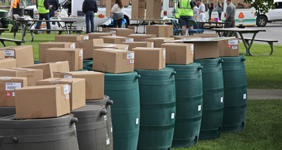 Location:
Metropolitan Wastewater Treatment Plant
650 Hiawatha Blvd. W.
Syracuse, NY
Plant Tours:
Every Hour-on-the-hour, From 9 am to 1 pm
For More Information Contact:
Barb Liberatore
(315) 435-5402 x201