Green Improvement Fund (GIF) Projects
The Green Improvement Fund is a public-private partnership program created under the leadership of Coun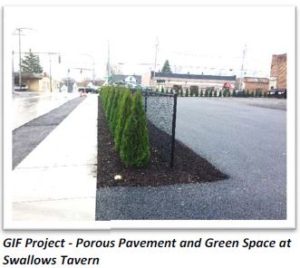 ty Executive Joanne M.  Mahoney to help facilitate the construction of green infrastructure on private commercial and nonprofit properties in eligible areas within the Combined Sewershed Basins in the City of Syracuse.
Created in 2010, the Green Improvement Fund has been very successful. Over 80 green infrastructure projects have been completed, capturing more than 38 million gallons of stormwater runoff. These green infrastructure projects including the installation of porous pavement, added green space, rain gardens, green roofs, and infiltration trenches.
T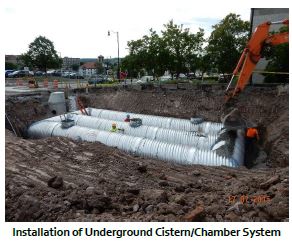 he Green Improvement Fund has awarded six rounds of funding for projects thus far; currently the Green Improvement Fund is accepting applications new projects. More information about the application process and current priority funding areas can be found here: http://savetherain.us/green-improvement-fund-gif/
Below you will find a list of Green Improvement Fund projects. Please check back often for updates on new and ongoing projects.
Please click the links below to view projects. 
2019 – Ongoing
2018 – Completed
2017 – Completed
| Project Title | Type of GI Technology | *Cost | **Capture (gal/yr) |
| --- | --- | --- | --- |
| GIF - Park Avenue Lantern Corporation (Dietz Factory) | Added Green Space, Underground Infiltration | $517,000 | 2,006,100 |
| GIF - Tan A Grocery Store | Added Green Space, Underground Infiltration | $52,000 | 226,100 |
| | Total | $569,000 | 2,232,200 |
2016 – Completed
| Project Title | Type of GI Technology | *Cost | **Capture (gal/yr) |
| --- | --- | --- | --- |
| GIF - 712 East Fayette Street | Porous Pavement, Underground Infiltration | $46,800 | 392,500 |
| GIF - Ra-Lin Retail Store | Added Green Space, Bioretention, Porous Pavement | $238,600 | 1,281,300 |
| GIF - RF Esposito Parking Lot | Roof Leader Disconnection, Underground Infiltration | $136,150 | 643,200 |
| GIF - RJ Westcott Holdings | Porous Pavement | $125,750 | 446,700 |
| GIF - St. Joseph's Hospital (301 Prospect Ave.) | Cistern | $145,900 | 713,300 |
| | Total | $693,200 | 3,477,000 |
2015 – Completed
| Project Title | Type of GI Technology | *Cost | **Capture (gal/yr) |
| --- | --- | --- | --- |
| GIF - Auto Row Realty (Crest Acura) | Added Green Space, Porous Pavement | $164,000 | 639,000 |
| GIF - Ra-Lin Warehouse Green Roof | Green Roof | $137,000 | 242,800 |
| GIF - St. Joseph's Hospital: Hickory Street | | $33,100 | 334,600 |
| GIF - Swallow's Tavern | Added Green Space, Drywell, Porous Pavement | $117,000 | 426,800 |
| GIF - Tucker Missionary Baptist Church | Added Green Space, Porous Pavement | $164,400 | 1,269,500 |
| GIF - Zip Networks | Green Roof | $205,775 | 250,500 |
| | Total | $821,275 | 3,163,200 |
2014 – Completed
| Project Title | Type of GI Technology | *Cost | **Capture (gal/yr) |
| --- | --- | --- | --- |
| GIF - 360 Warren Associates | Green Roof | $107,864 | 256,800 |
| GIF - Bethany Baptist Church Phase 2 | Bioretention, Porous Pavement | $172,038 | 907,000 |
| GIF - Brewster Medical/Genesee Medical Center | Infiltration System | $221,000 | 837,700 |
| GIF - Butternut Commons | Underground Infiltration | $104,430 | 704,100 |
| GIF - JC Smith, Inc. | Porous Pavement | $84,411 | 394,000 |
| GIF - JNJ Syracuse | Added Green Space, Porous Pavement | $32,600 | 105,100 |
| GIF - Nojaim's Grocery Store | Drywell, Underground Infiltration | $234,800 | 1,216,100 |
| GIF - Onondaga Commons Rural Metro Phase 1 | Porous Pavement | $176,787 | 920,200 |
| GIF - Onondaga Commons Rural Metro Phase 2 | Added Green Space, Porous Pavement | $294,300 | 808,000 |
| GIF - Onondaga Commons: 506 W Onondaga St. | Added Green Space, Porous Pavement | $124,100 | 303,300 |
| GIF - Pike Block | Cistern | $126,900 | 585,200 |
| GIF - St. Lucy's Church 2014 | Bioretention, Porous Pavement | $69,000 | 274,000 |
| GIF - Syracuse Center for Peace and Social Justice | Drywell, Porous Pavement, Underground Infiltration | $57,700 | 160,000 |
| GIF - Taksum Development (United Uniform) | Added Green Space, Porous Pavement | $45,200 | 190,500 |
| GIF - University Hill Apartments | | $36,500 | 303,100 |
| GIF - VanKeuren Square | Added Green Space, Bioswale, Cistern, Porous Pavement, Underground Infiltration | $70,200 | 464,125 |
| | Total | $1,957,830 | 8,429,225 |
2013 – Completed
| Project Title | Type of GI Technology | *Cost | **Capture (gal/yr) |
| --- | --- | --- | --- |
| GIF - Bethany Baptist Church Phase 1 | Bioretention, Rain Garden | $162,680 | 1,461,700 |
| GIF - Consuelas Taqueria & BBQ | Bioretention, Porous Pavement | $38,238 | 68,100 |
| GIF - Create Public Art | Green Roof, Porous Pavement | $100,011 | 90,000 |
| GIF - Erie Bruce Corp. | | $151,700 | 1,172,900 |
| GIF - Genesee Plaza | Added Green Space, Underground Infiltration | $616,100 | 3,590,100 |
| GIF - Grace Episcopal Church | Added Green Space, Porous Pavement, Rain Garden | $99,000 | 262,100 |
| GIF - Graham Millwork Company Green Roof | Green Roof | $90,500 | 114,400 |
| GIF - Home Headquarters Marcellus Street | Bioretention, Bioretention (Stormwater Planter) | $40,500 | 102,600 |
| GIF - Housing Visions: 116 Hawley Ave | Added Green Space, Porous Pavement, Rain Garden, Tree Plantings | $194,650 | 564,400 |
| GIF - Loon Creek | Bioretention (Stormwater Planter), Drywell, Porous Pavement | $137,350 | 383,000 |
| GIF - McMahon/Ryan Child Advocacy Center | Bioretention (Stormwater Planter), Porous Pavement | $178,050 | 604,000 |
| GIF - NWSI Salt Quarters | Added Green Space, Porous Pavement, Rain Garden | $94,300 | 306,500 |
| GIF - NWSI: WCNY Case Supply | Added Green Space, Bioretention, Rain Garden | $98,527 | 1,111,800 |
| GIF - Onondaga Commons - Lean on Me Daycare | Porous Pavement | $199,500 | 534,100 |
| GIF - Onondaga Commons: Harris Health Center | Porous Pavement | $77,800 | 196,400 |
| GIF - Onondaga Commons: Slocum Ave | Porous Pavement | $124,200 | 322,600 |
| GIF - P.E.A.C.E. Inc. | Added Green Space, Porous Pavement | $52,200 | 133,600 |
| GIF - People's AME Zion Church | Added Green Space, Porous Pavement | $61,400 | 152,800 |
| GIF - Salina Shoe Salon | Porous Pavement | $48,000 | 191,600 |
| GIF - Smith Housing, LLC | Porous Pavement | $52,600 | 232,000 |
| GIF - South Side Community Coalition (South Side Food Co-op) | Porous Pavement, Tree Trench | $59,800 | 161,000 |
| GIF - St. Patrick's Apartments | Added Green Space, Drywell, Porous Pavement | $177,300 | 559,200 |
| GIF - United Auto Supply | Underground Infiltration | $57,600 | 749,100 |
| GIF - VNA Homecare | Drywell, Infiltration Trench | $65,800 | 516,000 |
| | Total | $2,977,806 | 13,580,000 |
2012 – Completed
| Project Title | Type of GI Technology | *Cost | **Capture (gal/yr) |
| --- | --- | --- | --- |
| GIF - 100 Clinton Square | Porous Pavement, Tree Trench, Underground Infiltration | $533,300 | 2,025,400 |
| GIF - American Beech | Drywell, Porous Pavement | $53,050 | 146,100 |
| GIF - Arc of Onondaga County | Porous Pavement | $78,907 | 299,400 |
| GIF - Brooklyn Pickle | Bioretention, Rain Garden | $30,555 | 151,900 |
| GIF - CNY Regional Transportation Authority (CENTRO) | Underground Infiltration | $65,390 | 1,243,000 |
| GIF - Copper Beech Commons | Bioretention, Porous Pavement | $144,400 | 1,405,500 |
| GIF - Gemmi Boy | Added Green Space, Cistern, Porous Pavement, Underground Infiltration | $47,537 | 108,200 |
| GIF - Kopp Billing Agency | Bioretention (Stormwater Planter), Drywell | $25,300 | 332,400 |
| GIF - Mister Lady Bug | Porous Pavement, Tree Plantings | $46,700 | 113,200 |
| GIF - Park Central Presbyterian Church | Porous Pavement, Tree Plantings | $61,050 | 145,300 |
| GIF - People's Community Development Corporation | Green Roof | $80,825 | 77,200 |
| GIF - Synapse Downtown | Cistern, Porous Pavement, Rain Barrels, Tree Trench | $35,700 | 127,900 |
| GIF - Teall Centre (PriceRite Grocery Store) | Bioretention (Stormwater Planter), Porous Pavement | $204,000 | 2,700,400 |
| GIF - Vibrant Syracuse Spaces Green Roof (The Gear Factory) | Green Roof | $198,680 | 226,000 |
| | Total | $1,605,394 | 9,101,900 |
2011 – Completed
| Project Title | Type of GI Technology | *Cost | **Capture (gal/yr) |
| --- | --- | --- | --- |
| GIF - CNY Jazz Arts Foundation Green Roof | Green Roof | $52,188 | 53,000 |
| GIF - CNY Philanthropy Center | Green Roof, Porous Pavement, Rain Garden | $62,700 | 194,900 |
| GIF - Hotel Skyler | Cistern, Porous Pavement | $100,000 | 173,000 |
| GIF - Matawon Development Group | Infiltration Trench | $24,214 | 73,600 |
| GIF - Monroe Building | Green Roof | $99,311 | 92,000 |
| GIF - Putnam Properties | Green Roof | $75,757 | 81,000 |
| GIF - Skiddy Park: Courts4Kids | Porous Pavement | $163,204 | 420,300 |
| GIF - Spa at 500 W. Onondaga Green Roof | Green Roof | $34,347 | 98,600 |
| GIF - The Galleries Office Towers | Underground Infiltration | $100,000 | 352,000 |
| GIF - Vibrant Syracuse Spaces (The Gear Factory) | Bioretention, Porous Pavement | $153,618 | 176,000 |
| | Total | $865,339 | 1,714,400 |
2010 – Completed
| Project Title | Type of GI Technology | *Cost | **Capture (gal/yr) |
| --- | --- | --- | --- |
| GIF - Dunbar Association | Porous Pavement | $100,000 | 225,000 |
| GIF - Jefferson Clinton Commons | Green Roof, Porous Pavement | $100,000 | 299,000 |
| GIF - King & King Architects Green Roof | Green Roof | $100,000 | 197,000 |
| GIF - NWSI Artist Studio | Infiltration Basin, Porous Pavement, Rain Garden | $22,731 | 130,000 |
| GIF - NWSI Lincoln Building | Bioretention, Infiltration Trench, Tree Planters | $78,000 | 476,000 |
| GIF - Spa at 500 W. Onondaga Parking Lot | Bioretention | $52,740 | 150,000 |
| GIF - St. Lucy's Church 2010 | Porous Pavement | $125,000 | 352,000 |
| GIF - SUNY ESF Residence Hall | Bioswale, Cistern, Infiltration Trench | $78,000 | 62,000 |
| GIF - Syracuse Model Neighborhood Corporation | Rain Garden | $78,907 | 387,000 |
| | Total | $735,378 | 2,278,000 |
Click here for the full list of STR green projects on public properties