Educational Books & Videos for Children and Adults
The following books and the movie are all available through the Onondaga County Public Library system. The short videos are viewable online through PBS. If you are looking for more recommendations, you can always ask a librarian to help you out!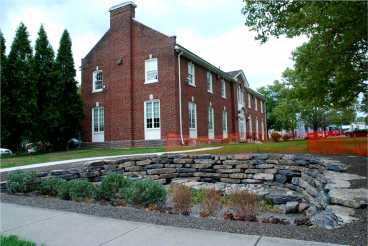 White Library's rain garden
Children's books:
Aardema, Verna. Bringing the Rain to Kapiti Plain: a Nandi Tale. New York: Dial Press, 1981.
A rhyming story on the impact and stresses of a drought on animals on and plants, underscoring the vitality of water. Ages 4-8.
Asch, Frank. Water. San Diego: Harcourt Brace, 1995.
This story emphasizes the importance of water, how it surrounds us, gives of life and inspires great gratitude for it. Ages 3-6.
Cole, Joanna. The Magic School Bus at the Waterworks. New York: Scholastic Inc., 1986.
When Ms. Frizzle, the strangest teacher in school, takes her class on a field trip to the waterworks, everyone ends up experiencing the water purification system from the inside.
Cole, Joanna. The Magic School Bus Wet All Over: a book about the Water Cycle. New York: Scholastic Inc., 1996.
Join the class as they evaporate, condense, rain, and make their way back to the ocean, only to evaporate all over again.
Jeffers, Susan. Brother Eagle, Sister Sky: the Words of Chief Seattle. New York: Dial Books, 1991.
A Suquamish Indian chief describes his people's respect and love for the earth, and concern for its destruction. Ages 4-8.
Seuling, Barbara. Drip! Drop! How Water Gets to Your Tap. New York: Holiday House, 2000.
Jo Jo and her zany dog Willy explain the water cycle and introduce experiments about water filtration, evaporation, and condensation. Ages 4-8.
Shannon, David. The Rain Came Down. New York: Blue Sky Press, 2000.
An unexpected rain shower causes quarreling among the members of a small community. Ages 4-8.
Verde, Susan. The Water Princess. New York, NY: G.P. Putnam's Sons, 2016.
Based on supermodel Georgie Badiel's childhood, a young girl dreams of bringing clean drinking water to her African village. Ages 5-8.
Yolen, Jane. Letting Swift River Go. Boston; Toronto; London: Little Brown and Company, 1992.
Relates Sally Jane's experience of changing times in rural America, as she lives through the drowning of the Swift River towns in western Massachusetts to form the Quabbin Reservoir. Ages 4-8.
Zoehfeld, Kathleen Weidner. What is the World Made of?: All about Solids, Liquids, and Gases. New York: Harper Collins, 1998.
In simple text, presents the three states of matter, solid, liquid, and gas, and describes their attributes.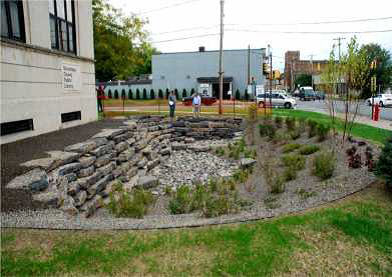 Beauchamp Library's Rain Garden
Books for Adults:
Black, Peter E. Water Drops: Celebrating the Wonder of Water. Albany: State University of New York Press, 2012.
Devoted to the topic of water, drinking water in particular, as precious resource vital to life on Earth, the impact humans have had on water and those effects on water quality, watersheds, water quality and other aspects of water.
Condon, Patrick M. Seven Rules for Sustainable Communities: Design Strategies for the Post-Carbon World. Washington [D.C.]: Island Press, 2010.
In addressing topics such as transportation, housing equity, job distribution, economic development and ecological systems, this book makes suggestions for how cities in the U.S. and Canada can best respond through urban planning and design.
Effler, Steven W. Limnologicval and Engineering Analysis of a Polluted Urban Lake: Prelude to Environmental Management of Onondaga Lake. New York: Springer, 1996.
The 1996 analysis on the state of Onondaga Lake addresses the history of the lake and how it came to be polluted as well as the water quality and sewage disposal.
Hawken, Paul. Drawdown: The Most Comprehensive Plan Ever Proposed to Reverse Global Warming. New York, New York: Penguin Books, 2017.
In the face of a changing climate this book addresses the top 100 solutions determined by scientists including the importance of green infrastructure and green cities.
Johnston, Sudhu Aufochs; Nicholas, Steven S. and Parzen, Julia. The Guide to Greening Cities. Washington: Island Press, 2013.
Through interviews with policy makers, community leaders and others across North American cities, including municipal staff in leading "green cities," insights are shared with the reader as to how cities can improve the resiliency in the wake of Superstorm Sandy's.
Rose, Jonathan F.P. The Well-Tempered City: What Modern Science, Ancient Civilizations, and Human Nature Teach us About the Future of Urban Life. New York: Harper Wave, 2016.
Addressing the industrial development of cities in the U.S. and projected growth that will depend on ancient infrastructure, Rose tackles the environmental, economic and social impacts of urban development and renewal through topics such as equity, resilience, adaptability, well-being and nature.
Steffen, Alex. Worldchanging: a User's Guide for the 21st Century. New York: Abrams, 2006.
In an encyclopedia-style format, this guide addresses environmental problems, improvements, and adaptations including the topic of water.
Troy, Austin. The Very Hungry City: Urban Energy Effieciency and the Economic Fate of Cities. New Haven: Yale University Press, 2012.
This book dives into the energy consumption of cities, including water supply, and unsustainability of that consumption through the current infrastructure. To address current problems Troy uses a city planning, architecture, business and economics and nature lens.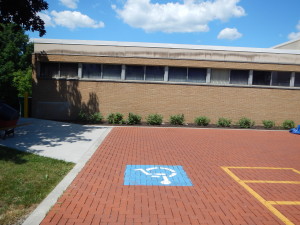 Hazard Library's Porous Pavers
Short Educational Videos:
Wastewater Woes: Sewage Spills in SF Bay
In this video from QUEST produced by KQED, learn about what happens to the wastewater from your household, the causes of the recent sewage spills in the San Francisco Bay, and what's being done to prevent them.
Learn how water contaminated with raw sewage can be purified in this video from the WPSU documentary Liquid Assets.
In this video from SciTech Now, explore St. Louis' combined sewer system, once considered an engineering masterpiece, but today fails to meet many modern environmental standards. See how Metropolitan Sewer District is digging tunnels and planting gardens to address the issues.
Sustainable Water Use | Liquid Assets
Learn how Las Vegas is transforming its water infrastructure. A desert community, Las Vegas is reducing water consumption and re-using wastewater, making optimal use of limited water resources. The endeavor has been so successful that the city has reduced its water usage despite its increasing size. For them, water conservation is a way of generating more water. One of the city's major projects is treating and re-using its water for purposes such as irrigation, which allows the city to sport lush grasslands in the middle of a desert.
This video demonstrates how peat filtration beds at Bernheim Arboretum and Research Forest near Louisville, Kentucky purify and conserve wastewater and eliminate one cause of non-point-source water pollution. In many rural areas, wastewater from houses and other buildings flows into septic tanks and then into septic fields, where it can contaminate groundwater. At Bernheim, wastewater from the Visitor Center flows into a septic tank, but from there, it is released into filtration beds where microorganisms break down contaminants. The water that emerges from these filtration beds is clean enough to use for irrigation in the Center's greenhouse.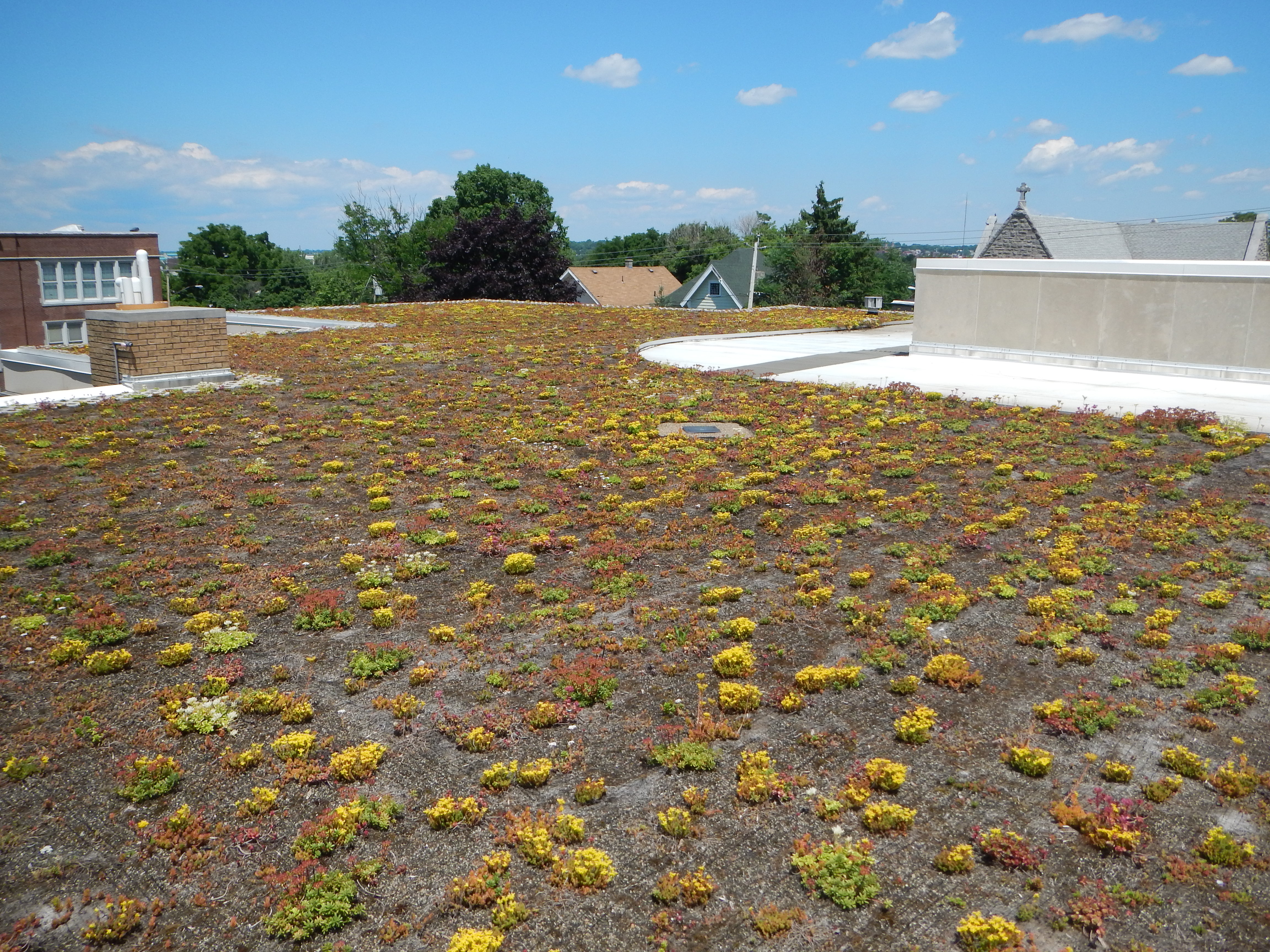 Hazard Library's Green Roof
Kids Movies:
Bastien, Charles E., Jacobs, Lawrence. The Magic School Bus Catches a Wave. Burbank, CA: Warner Home Video, 2005.
Dive into three refreshing episodes with Ms. Frizzle. She takes her class on a rainy ride through the life cycle of a water drop, on the journey of a boulder subjected to water erosion, and on a trip to the bottom of Walkerville Lake. Ages 3-8.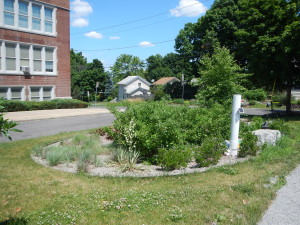 Hazard Library's Rain Garden
If you're interested in more readings and information on Onondaga Lake's history and current transformation, Solvay Public Library has plenty of archives on the subject.