This project will incorporate rain gardens, trees and infiltration trenches along a 10 block stretch of South Salina Street. It is estimated that this project will capture 4,881,429 gallons of stormwater each year. This will be one of our most impactful green streets projects to date!
Project boundaries are between East/West Colvin Street and West Newell Street
We held our first community meeting for this project on March 5 at 6:00pm. We gave an overview of the Save the Rain program and discussed our initial thoughts for the project design. Thank you to the members of the community who came out and shared their thoughts. Your input will help create the final project. There will be more community meetings throughout the design process and before construction begins. Stay tuned!
The link below will bring you to the March 5 presentation:
The image below will bring you to the May 5th Southside TNT meeting presentation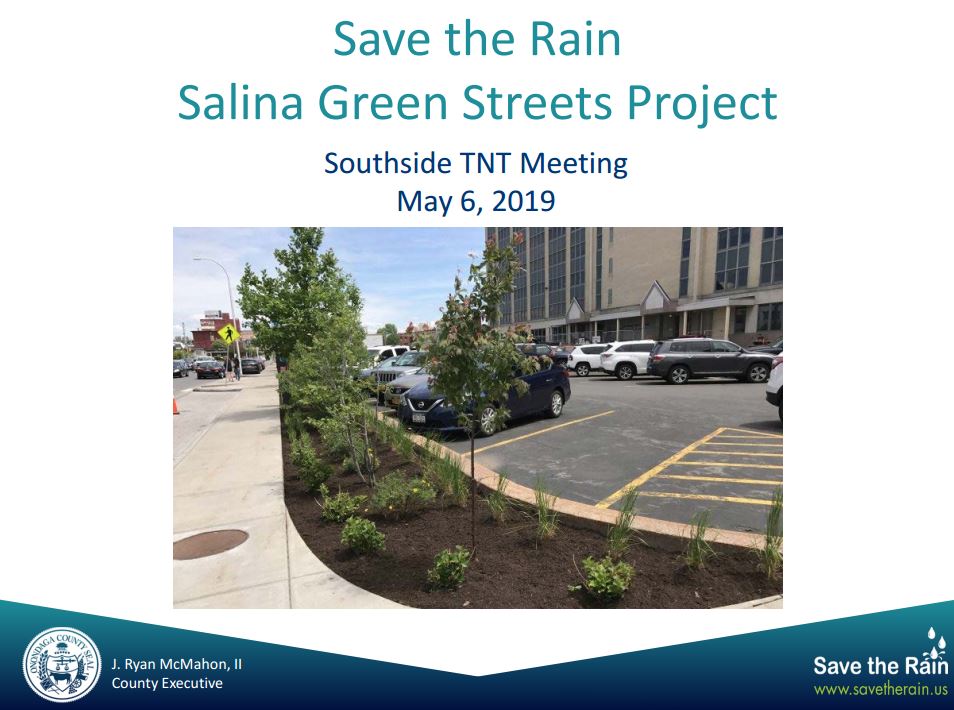 Project Questions

– Will the project impact street parking?
As with any construction project, there is the potential for street parking to be temporarily impacted. The project team will communicate these impacts to residents and businesses. The best way to stay up to date about this project is to follow us on Facebook and to visit this web page.

– Will property owners be expected to maintain installed green infrastructure?
The County will maintain porous pavement/pavers (vacuum twice a year) and will prune trees as needed. Property owners are expected to mow green spaces in front of their business/residence. The County will periodically clean up litter in the installed green infrastructure, but property owners should help in this effort as well, per City ordinances.

– Will this project incorporate mid-block crossings or bike lanes?
The project team will study the feasibility of these suggestions and will report back in future community meetings.

– Will local construction workers be hired?
The County has an aggressive local minority and women business enterprise (MWBE) and equal opportunity employment (EEO) program included in all of their construction contracts. For this project 30% MWBE and 30% minority and female employment will be required, oftentimes this is achieved with the local community workforce

– How will tree locations be selected?
The Salina Green Street project plans to plant 41 new street trees. The project team will be hosting future community meetings and will be reaching out to the business community to further discuss the project. New trees come with a variety of environmental and health benefits. However, if you do not wish to have a tree planted in front of your home or business please reach out to the project team and let us know. We can be reached at 315-435-2260.

– Will road salt negatively impact the planned porous pavement and pavers?
Road salt will not damage porous pavement/pavers. The County will provide maintenance (vacuum) twice a year.
– How tall will the trees grow?
Between 10 to 20 feet at full maturity depending on location in relation to overhead utilities.