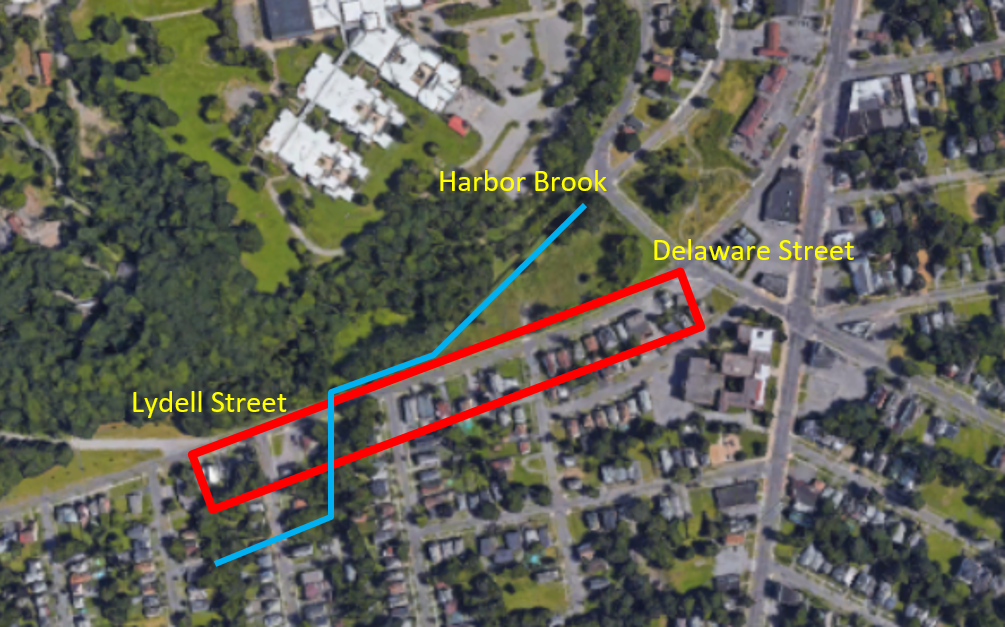 Limits of the Road Reconstruction/Sewer Separation Project
on Grand Avenue are outlined in red on the map above

Project Description:
The Road Reconstruction project on Grand Avenue further exemplifies the continued partnership between Onondaga County and the City of Syracuse. This project is another example of the City's Department of Public Works partnering with Onondaga County through their road reconstruction program for the inclusion of stormwater management. This application, within CSO 014/015, reduces pollution to Harbor Brook and Onondaga Lake.
Taking advantage of nearby Harbor Brook, this project will include the construction of a new separated storm sewer to capture the runoff from Grand Avenue and adjacent side streets within CSOs 014 and 015. An 18" storm sewer will be constructed along the north side of the street tying into multiple existing catch basins. By capturing this additional side-street runoff, the project is highly cost and capture efficient and benefits multiple CSO basins within the Harbor Brook sewershed due to capacity relief in the interceptor sewer. This project manages a total of 89,400 square feet of impervious drainage area, equating to approximately 1,250,000 gallons of stormwater runoff annually, in CSO 014/015. Construction for this project is planned for 2020.

Download project details below: