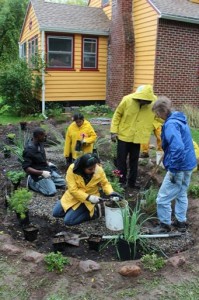 This project was a demonstration project completed by the Onondaga Earth Corps. Past projects that the Earth Corps have completed include projects at the Westcott Community Center, Barnabas Center and Bishop Foery Center.
The demonstration project at 133 Vale Street consisted of the installation of one rain garden to capture runoff from the roof of an adjacent property. The downspout from the roof is directed to allow stormwater to enter the rain garden, and the rain garden is planted with native, non-invasive species. This rain garden captures approximately 1,000 gallons of stormwater annually. This rain garden project was completed in the summer of 2012 in the Midland 067 combined sewershed.
The Onondaga Earth Corps is a youth development and green job training program that employs youth ages 15-20 from the City of Syracuse to work on community beautification, environmental improvement and outreach projects. Onondaga Environmental Institute is a non-profit environmental organization whose mission is to advance environmental research, education, planning and restoration in Central New York. Their staff have extensive experience with the Onondaga Lake Watershed, green infrastructure and community engagement.
Download project details below: