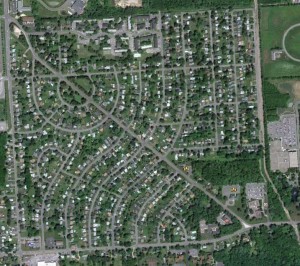 The Franklin Park neighborhood in the Town of Dewitt is bounded on the south by Kirkville Rd, on the west by Kinne St, on the north by commercial and industrial properties, and on the east by Conrail tracks. There are 700 homes connected to the sanitary sewer system in this area. The green infrastructure implementation includes two components – rain barrels and tree planting.
The Town will administer a rain barrel program to distribute approximately 800 rain barrels to 400 homeowners, contracting with a third party to provide active community outreach, education and demonstration to support this rain barrel implementation.
The community tree planting initiative will involve the planting of 250 trees in the Franklin Park neighborhood. Trees will be planted in the town right-of-way along the neighborhood streets.
These green infrastructure technologies will capture over 3 million gallons of stormwater each year.
Download project details below: