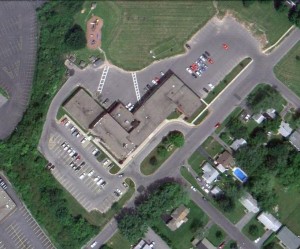 This project is located at the Salina Town Hall and will consist of installing 2 stormwater collection systems. These systems will capture runoff from the site's surface area including portions of the building rooftop through the disconnection of roof leaders. Each system will convey stormwater runoff to independent underground infiltration systems.
The infiltration systems will have perforated piping within an infiltration bed designed to accommodate the runoff from 327,136 square feet of surface area, capturing 2,149,100 gallons annually.
As the Town Hall is heavily frequented by the community, an informational poster will be posted in the main lobby area to describe the importance of stormwater management and provide information on this project.
The maintenance plan includes sweeping of the parking area twice a year, adjusting mowing operations to keep clippings on the lawn area rather than the parking area, and inspections on a monthly basis and during/after rain events to ensure proper functioning of the system.
Download project details below: