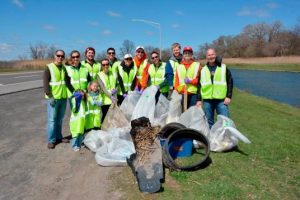 Community groups can help contribute to the rebirth of Onondaga Lake and also help beautify Onondaga County and the City of Syracuse at the same time. Community groups are an integral part of the Save the Rain program, helping in many different events and activities. Some of the ways your community group can help are:
1.) Help Connect the Drops – by organizing a litter cleanup with your community group, you can help keep litter off our street and out of our waterbodies. Litter cleanups are a great way to have a large impact on the appearance of our county and the quality of our waterbodies.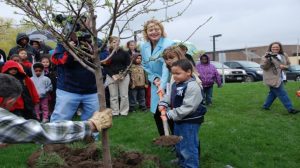 2.) Community Tree Plantings – volunteer groups can participate alongside Onondaga Earth Corps, Cornell University Cooperative Extension, and Save the Rain by volunteering at one of our planting events. Trees are planted in city parks and along streets in the City of Syracuse. It's a great way to make a positive impact on our community and help reduce stormwater runoff.
3.)  Attend Save the Rain's Clean Water Fair – held every September. The Clean Water Fair allows visitors to take a full tour of the Metro plant and learn how a wastewater treatment plant operates. The Clean Water Fair also offers kids activities, green infrastructure displays, Onondaga Lake wildlife and fish exhibits, and much more.