Municipal Separate Storm Sewer System (MS4)
Save the Rain Clean Water Fair and Rain Barrel Program are featured in the August 2014 "Gardens and Gutters" newsletter from CNY Stormwater Coalition: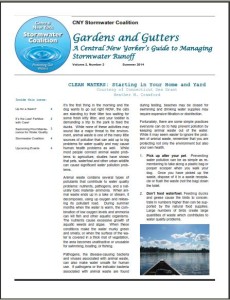 Onondaga County has worked with the suburban communities in its sanitary sewer district to use green infrastructure to reduce inflow and infiltration into the sanitary sewer system. Suburban green infrastructure program funding was provided by the County for the abatement of sewer system overflows. Download the 2017 SGIP application for more information on the program.
Help reduce Sanitary Sewer Overflows (SSOs) by reducing inflow and infiltration from your home:
  More information: Stormwater Management Sewer Use Ordinance EPA Municipal Handbook – Green Infrastructure Stop Sewer Backups and Disconnect Downspouts Download our brochure: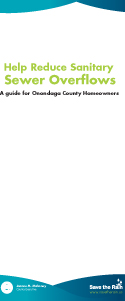 4 Panel Brochure, Double Gate Fold (Full size = 8.5″ x 14″)