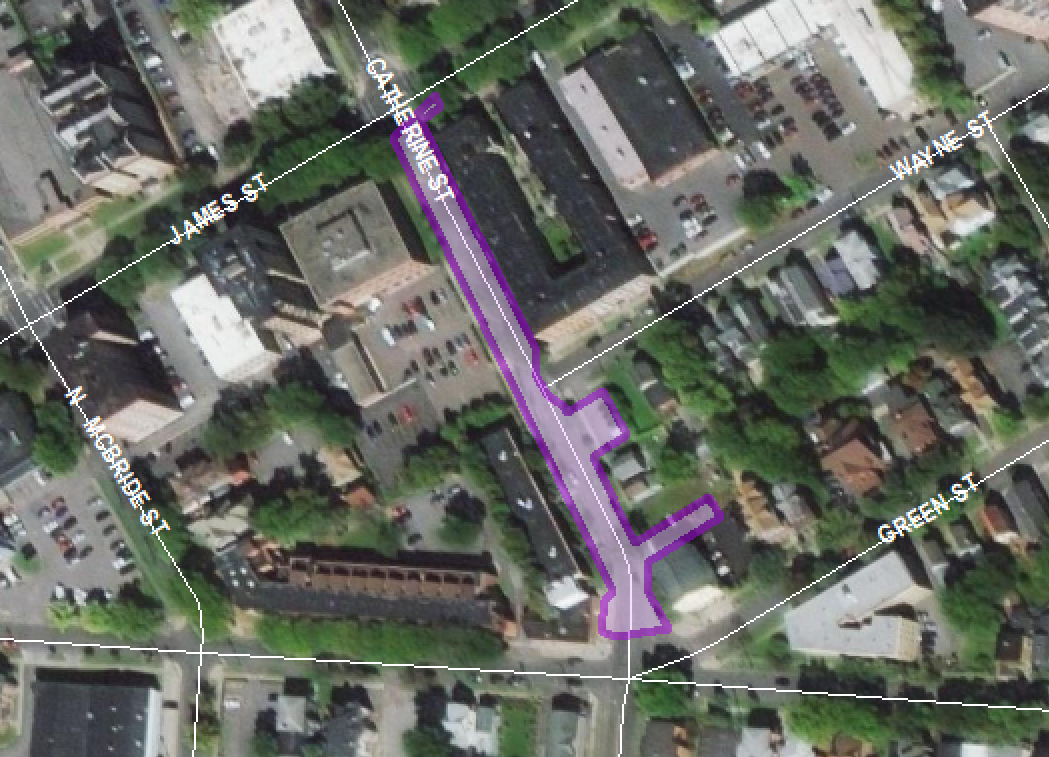 Catherine Street drainage area outlined in purple
from James Street to Hawley Avenue

Project Description:
The Road Reconstruction project on Catherine Street exemplifies the continued partnership between Onondaga County and the City of Syracuse. This project is another example of the City's Department of Public Works partnering with Onondaga County through their road reconstruction program for the inclusion of green infrastructure. This application, within CSO 080A, reduces pollution to Onondaga Creek and Onondaga Lake by capturing stormwater runoff and routing it into underground infiltration trenches, removing the storm flow from the combined sewer.
The project includes the construction of underground infiltration trenches between James Street and Hawley Avenue to manage the runoff from Catherine Street. The infiltration trenches will be designed to maximize the stormwater capture in a small footprint for the benefit of the environment. The current plan involves constructing two trenches that will both have an overflow back into the combined sewer. The streetscape will not look different after the proposed work is completed, as the trenches are completely underground with no visible features at the surface. This project manages a total of 30,043 square feet of impervious drainage area, resulting in the annual capture of approximately 531,000 gallons of stormwater runoff in CSO 080A.
New 8" connection to Harbor Brook
Interceptor Sewer and 24" overflow

Download project details below: