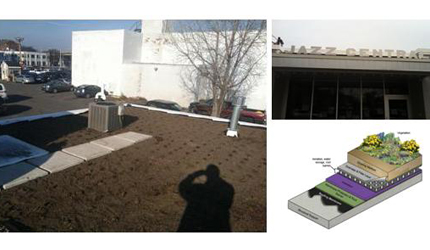 The Central New York Jazz Arts Foundation project consists of the construction of a 3,000 square foot green roof at the property located on 441 E. Washington Street.
The green roof was constructed utilizing sedum and a 5-inch thick constructed soil medium. Sedum is a type of low-growing succulent vegetation that requires little maintenance once installed. The annual stormwater capture of the roof is approximately 53,000 gallons.
The CNY Jazz Arts Foundation is a not-for-profit organization that is dedicated to providing, presenting and teaching jazz to the Central New York Community. In addition to the green roof construction, the current home of the Foundation has undergone several improvements to the facility to accommodate a wide variety of entertainment performance and services.
Download project details below: