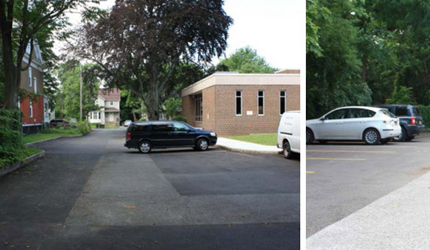 Project Description:
The green infrastructure project at the Dunbar Center, located near the intersection of East Castle and South State Streets, converted approximately 18,600 square feet of impervious area that drained directly to combined sewers in the Midland sewer district. The project included conversion of an existing 12,800 square feet parking lot and driveway area from a total impervious area to a combination of conventional asphalt and porous concrete. The parking lot was designed to collect stormwater in the center of the lot and allow runoff to be collected in a porous concrete strip in the center island. Additionally, stormwater runoff from the roof was diverted to the porous parking lot to prevent discharge to the sewer system.
The project was designed to capture and infiltrate at least one inch of stormwater runoff from the site. The renovations completed during the construction of this project, combined with existing rain gardens constructed on the property, will allow the site to capture an estimated annual runoff volume of 225,000 gallons.
Download project details below: