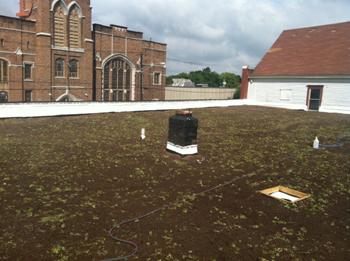 The People's Community Development Corporation received a grant from the Green Improvement Fund (GIF) for the construction of a green roof at the organization headquarters. Approximately 4,000 square feet of roof surface has been covered with vegetation and soil medium to capture stormwater runoff.
This project was one of the first green roof projects on the south side of Syracuse and will capture an estimated 77,000 gallons of stormwater annually.
People's Community Development Corporation is a nonprofit organization located S. Salina Street in the City of Syracuse. The corporation provides resources to local residents to support efforts of community development through projects, neighborhood initiatives and special events.
Download project details below: