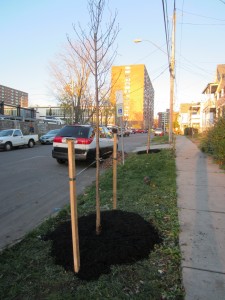 A comprehensive Street Tree Planting Contract addresses stormwater management by specifying and securing plant materials and services for the planting of trees throughout the City of Syracuse as part of the Onondaga County Save the Rain program during the 2012 spring and fall planting seasons.
Over the course of 2012, 850 trees were planted by the City-County Arborist and community groups (including the spring planting season and this fall planting season. Each tree captures approximately 2,000 gallons of stormwater per year, so this amounts to an estimated 1.7 million gallons of annual runoff reduction.
Tree canopy coverage is vital for urban stormwater management, as trees capture and store rainwater in their canopies and root zones, eventually releasing this water over time into the atmosphere through evapotranspiration. Trees also help to slow down and temporarily store stormwater runoff due to their physical presence and the ability of tree roots to improve soil conditions to promote infiltration. Urban trees also provide a host of other community benefits including those related to aesthetics, air quality, shading, property values, and energy.
Visit the Save the Rain Tree Planting Program page for more information
Download project details below: