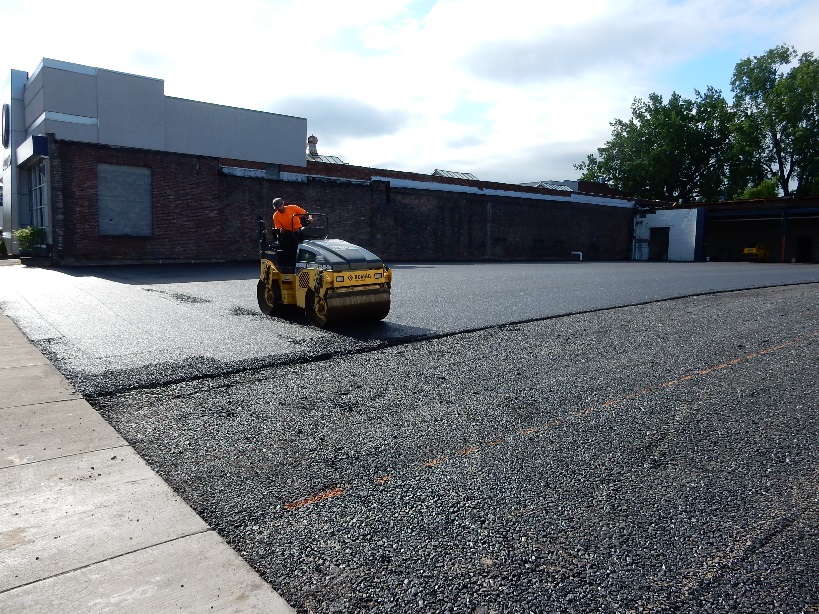 The Green Improvement Fund (GIF) project at Auto Row Realty is located at 741-745 West Genesee Street. The site will now serve as additional parking for the Crest Acura dealership facility.  Much of the site consisted of impervious areas, which produced large amounts of stormwater runoff.  In order to manage the property runoff from the large impervious surfaces, Crest Acura partnered with the Save the Rain Program to implement green infrastructure elements on site.
The project features a 16,014 square feet   parking area that was converted from standard asphalt porous asphalt.  The porous asphalt will now manage runoff from 15,800 square feet of impervious drainage area in addition to the porous surface area.  The plumbing system within the building was modified to direct the roof runoff to the stone storage beneath the porous asphalt.  In addition to the porous asphalt installation, the project removed approximately 2,380 square feet of pavement, converting it into a grass lawn.
Approximately 18,395 square feet of green infrastructure was installed to capture an estimated 639,000 gallons of stormwater annually.
Download project details below: