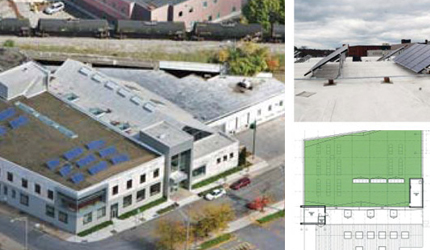 Project Description:
In 2010, a partial green roof system was installed at the new offices of King + King Architects, located at the northeastern corner of West Street and West Jefferson Street in downtown Syracuse. The project incorporated installation of a vegetated roof system over approximately 11,200 square feet of thermoplastic polyolefin (TPO) roofing and roof structural reinforcement system, which was recently upgraded to accept green roof loading. The new green roof installation covers approximately 30% of the actual roof area, while capturing 100% of the roof area that previously drained to the municipal combined sewer system. The non-vegetated portion of the new roof drains into green space located on the north side of the building, which has been re-established by with native and adaptive wildflowers and grasses to promote stormwater infiltration.
The project was designed to capture 1" runoff from the rooftop, resulting in a total annual stormwater runoff capture of 197,000 gallons.
Download project details below: