Project Description:
The Mill Pond Landing green infrastructure project, located at 329 West Street in Armory Square, was completed in 2018. The GIF project consisted of the installation of 48 200 to 250 gallon cisterns in the basement of the building totaling 10,000 gallons of stormwater storage for runoff from the building roof.
The captured water will be used for irrigation of on-site green features, and any excess water is allowed to slowly drain back to the combined sewer system after peak flows in the sewer have passed, following rainy days or snow melting. This type of "capture and slow release" technology has been used in several other green infrastructure projects at locations where infiltration into the ground is not practical or feasible.
Each of the cisterns is hydraulically connected, creating a large storage network for rainfall capture. The "first flush" of rainwater from the roof, typically the dirtiest portion of the runoff, is allowed to proceed to the combined sewer system before a diversion valve opens allowing the runoff to collect within the cisterns.
In total, runoff from 9,036 square feet of impervious area is managed by the installed green infrastructure in this project, equating to approximately 130,425 gallons of stormwater runoff capture annually in high priority CSO 029.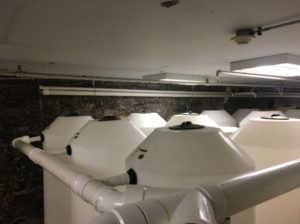 Download project details below: