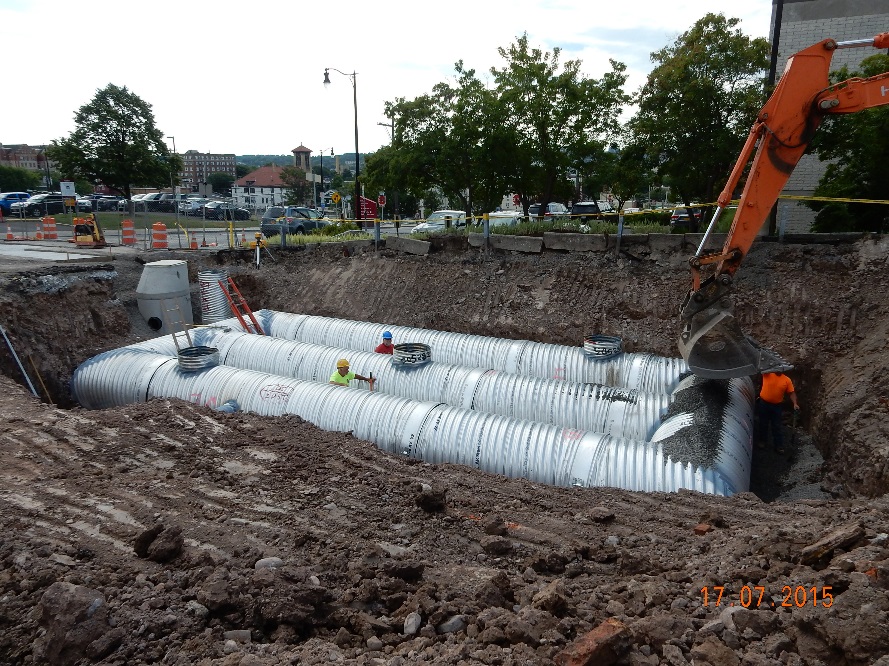 The 301 Prospect Avenue parking lot project is the second of two Green Improvement Fund (GIF) projects undertaken by St. Joseph's Hospital to date. St. Joseph's Hospital has been providing services to patients throughout the City of Syracuse since 1869. This GIF project consists installing a cistern and slow release system beneath a reconstructed parking lot to capture runoff form the parking lot and adjacent buildings.
The cistern system is a series of underground storage and infiltration chambers. Due to poor infiltration, the system was designed to slowly release the captured stormwater back to the sewer after rain events have ended. Runoff from the roof of adjacent buildings was replumbed into the cistern system to maximize the stormwater capture to the greatest extent.  Construction of the project began in 2015 and was completed in 2016.
Approximately 40,500 square feet of impervious drainage area is managed by this green infrastructure project, capturing a total of approximately 713,300 gallons of stormwater runoff each year.
View project fact sheet below