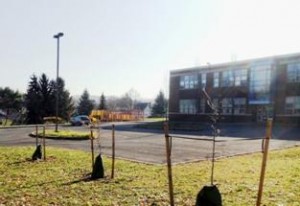 This tree planting effort involved the installation of 10 new trees around the parking lot and sidewalks at Hughes Magnet School on Jamesville Road. These features serve to beautify the grounds of the school while also capturing stormwater runoff. With each tree capturing approximately 2,000 gallons of stormwater per year, the project helps capture a total of 20,000 gallons annually.
The 10 new trees planted at the school provide increased stormwater capture and improved aesthetics along at Hughes Magnet School, but also provide greater stability and erosion control to the sloped areas they are planted on. These aspects of the project will continue to benefit both the school and watershed for many years to come.
This also provided an engaging educational opportunity for students at Hughes Magnet School, some of whom assisted in the planting of these trees. The City/County Arborist and personnel from Cornell Cooperative Extension of Onondaga County educated the children about the benefits of planting trees – including stormwater capture. The Commissioner of the Onondaga County Department of Water Environment Protection and the Commissioner of the City of Syracuse Parks Department also visited the school and spoke to the children at an Arbor Day celebration outside of the school.
Download project details below: