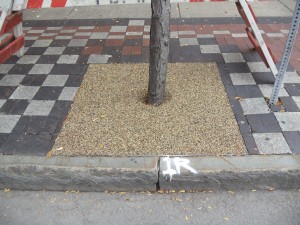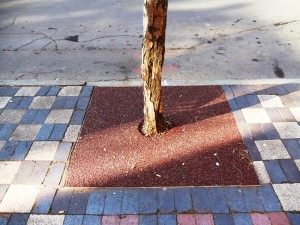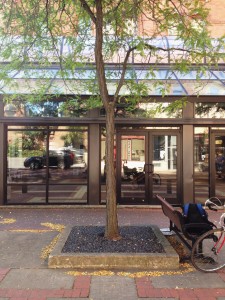 The Tree Pit Pilot Project highlights the growing partnership between the City of Syracuse and Onondaga County through the Save the Rain Program. Onondaga County partnered with the City to construct a pilot project to test performance and aesthetics of different types of porous resin-bound aggregates around downtown tree pits.
Resin-bound tree pit surfaces were installed in 8 existing tree pits along the 400 block of South Salina Street in downtown Syracuse. This project featured 5 different porous resin-bound aggregate surfaces, from 4 different vendors. The tree pits were designed to capture runoff from the adjacent sidewalk, while creating a hardscape surface to handle pedestrian traffic without compacting the soil or limiting the amount of water getting to the trees.
The project captures approximately 53,000 gallons of stormwater per year. The performance of each of the resin-bound aggregates will be monitored over time with the intention of creating a standard for downtown Syracuse in the future.
Download project details below: