Village of Baldwinsville, Lock Street
7073300
**TOTAL CAPTURE: GAL/YR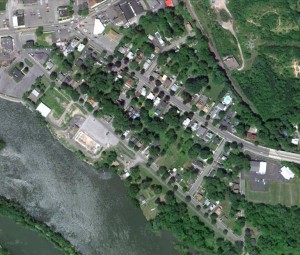 The Village of Baldwinsville intends to reconstruct Lock Street with a center median which will include the installation of approximately 1440 linear feet of bioretention.
Lock Street is located on the northern bank of the Seneca River within the Village of Baldwinsville's Central Business District. The streetscape and waterfront area to the south of Lock Street have been prioritized by the Village for revitalization and development which will help to spur economic growth within the Village and enhance one of its greatest assets, the Seneca River waterfront.
The project will give Lock Street a "boulevard" aesthetic – a divided roadway with street trees and bioretention areas within a median. This will promote public use of waterfront walking trails, public green space, and residential areas planned for the riverside development. Due to its close proximity to the Seneca River, the existing Lock Street drainage system introduces a number of pollutants to the open waterway.
The reconstruction of Lock Street offers a great opportunity to capture this stormwater before it enters the River using green infrastructure. The project consists of grassed medians which will contain bioretention areas to filter the stormwater runoff from approximately 17 acres of the residential area to the north. After infilitrating through the bioretention areas, perforated underdrain pipes will collect the treated runoff and discharge it to the river.
Each year, this will capture approximately 7,073,300 gallons of stormwater from a drainage area of 17 acres.
When completed, this green project will offer a public educational opportunity. It is proposed that interpretive signs be placed along the new Lock Street streetscape and waterfront walking trails, which will describe the importance of stormwater treatment and management in order to keep waterways clean for future generations.
Download project details below: