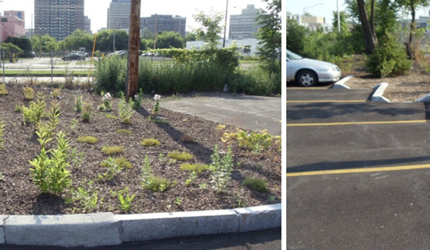 Project Description:
The Lincoln Building site, located near the intersection of Otisco and Wyoming Streets, was renovated to incorporate green infrastructure components into a comprehensive stormwater management system. The main feature of the project is the installation of a dry well system (cistern) to capture stormwater runoff onsite. Additionally, the construction of a bio-retention garden, tree planter boxes and infiltration trenches were installed adjacent to sidewalk areas to provide further capture.
The design also featured pretreatment technology, including engineered soil and native and ornamental tree and shrub plantings.
The total captured impervious area is 27,000 square feet. Approximately 93% of the area is directly captured within the newly landscaped area. The project was designed to capture and infiltrate at least one inch of stormwater runoff from the site, resulting in a total estimated annual stormwater runoff volume of 476,000 gallons.
Download project details below: