Onondaga County Executive Joanie Mahoney announced today the installation of a green roof on the Monroe Building in downtown Syracuse which is made possible through the County's Save the Rain Green Improvement Fund (GIF) program. This project is a collaboration of Jeff DeRoberts, who is the building owner, Onondaga County, Helping Hands and MotherPlants.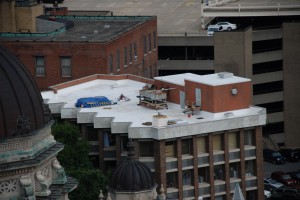 The GIF program, which began in 2010, to help support the efforts of the Save the Rain campaign, is aimed at reducing storm water pollution and helping clean Onondaga Lake. It provides financial assistance for the installation of green infrastructure projects for commercial, business, and not-for-profit property owners throughout designated areas in the City of Syracuse. Applicants are eligible to receive funding for green improvements up to $200,000. The program boundary includes areas on the West and South sides of the City, the downtown corridor and new coverage areas on points North and East of downtown.   "This is another great project that helps us Save the Rain," said County Executive Mahoney. "The Green Improvement Fund program assists businesses throughout Onondaga County who want to be more sustainable and supports our efforts to clean the lake."
 Jeff DeRoberts, who owns the Monroe Building, applied for a GIF grant in June 2010 to replace approximately 5,200 square feet of the roof with a stormwater retaining green roof surface of sedum and chive. He was awarded $92,832 through the GIF program and the roof is projected to capture 91,581 gallons of water per year. Executive Director of Helping Hands, Mike Atkins, "Green Collar Job Training" program will provide the labor to do the installation, and the sedum will be provided by MotherPlants of Ithaca, New York.
 Jeff DeRoberts said, "I was excited to receive the GIF funding. It has been helpful as we move forward with a more sustainable approach in the building. We are lucky to have a County program that is so focused on cleaning up Onondaga Lake, and I am proud to be part of the initiative."
Helping Hands is a non for profit organization assisting both unskilled as well as enhanced laborers who already have skills in carpentry, find jobs in the "green sector." The creation of "green-collar" jobs or quality, career-track, hands-on jobs in industries like renewable energy, water and energy efficiency and green building are becoming more prevalent and Mike is helping fill this need.
Mike Atkins said, "This is a great collaborative effort between County and City Government, the private sector, and a community based organization. We are excited about being part of history in downtown Syracuse by advancing the concept of Green Roofs on many of the existing buildings. This initiative fits squarely with our Helping Hands – Green Collar Job Training Program."
Interested GIF applicants can find out more information and download the program description, application and boundary map by visiting: Green Improvement Fund.
For more information on the Monroe Building project, please click on the links below:
http://centralny.ynn.com/content/top_stories/552362/downtown-building-gets-new-green-roof/